Padauk World Map 12" X 24"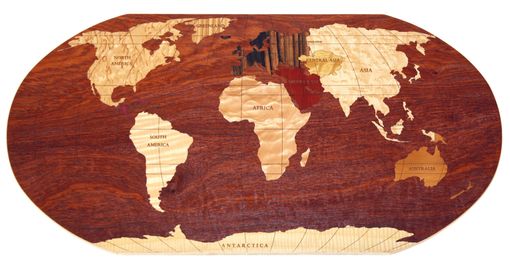 This is my Padauk world map.
Dimensions: 1' x 2' and 5/8" thick.

Padauk world map is made using a technique called marquetry. Each world region is an individual piece of wood veneer hand selected from the most exotic woods around the world. No dyes or stains of any kind have been used; these are 100 percent natural colors. Due to the intrinsic individuality of the wood, no two World Maps are identical. Each map is as unique as it is gorgeous.

Listed below are the wood veneer/tree species used for each major piece.
1. Ocean - Padauk
2. North America - Kareliean Birch Burl
3. Central America – Purple Heart
4. South America – Curly Maple
5. Greenland - Olive
6. Europe - Ebony
7. Central Asia - Movingui
8. Middle East – Blood wood
9. Africa – Quilted Maple
10. Asia – Birdseye Maple
11. Australia - Yew
12. Antarctica – French Ash
13. Edge Banding – Maple

This map has an edge banding for a perfectly finished look which needs no frame.
This piece has a sprayed lacquer finish for long lasting protection.
The back has metal hanging hardware.
Special Order:
I can custom make this map any size from 1' x 2' up to 4'x 8'.
Please contact me with any requests for other map designs that are not posted in my profile. I will be happy to accommodate any design requests. For example, notating special locations, adding logos, monograms, crests, favorite verses or sayings- if you can think of it, I can probably make it!