Painting: "I Am Always Watching You"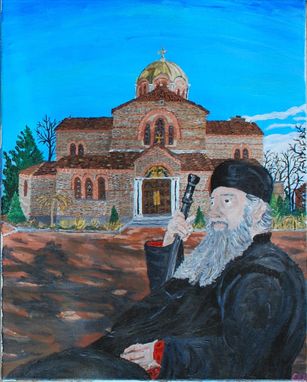 This is the second portrait I ever have painted, and the first I pieced together on my own. This was a comission for a friend of mine, who felt that her late grandfather, an Orthodox Priest in Greece, would have supported her efforts to study theology while the rest of her family did not.

So she wanted me to paint him. In front of the chapel that is on the campus for Holy Cross Hellenic College.

Easier said than done. I couldn't get the shading right for the brick path, unfortunately; after multiple tries, I'm ashamed to say I simply gave up and went with a more impressionist feel.

Overall, though, it didn't turn out badly. My friend hung it over her bed. The title was her idea. I would have given it something different, though I don't know what, exactly.

The canvas was a bit odd-sized, 15"x18"