Pair Marble Lions On Base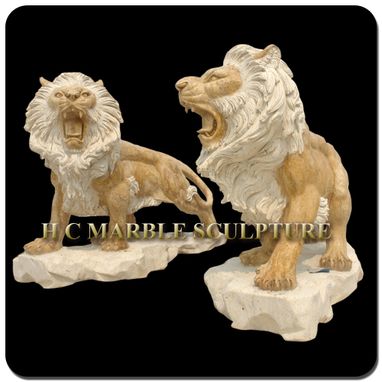 Featured here is a magnificent pair of Marble Lions. Their mane looks like it's blowing in the breeze. The lion statues are standing on a carved rock base. Their mouths are open wide and you can almost imagine hearing them growl.

The Lions are hand carved in intricate detail by our talented artisans..

Put a pair at your entrance guarding your front door.

Width: 71 " W 180cm
Depth: 22" D 55cm
Height: 59" H 150cm

Weight: 3,968 lbs /pair 1800 kg / pair

Color Marble Available in:
Travertine
Sunset Red Marble

* History of Chinese Guardian Lions
Chinese guardian lions, also called Fu Lions, lions of Buddha, or sometimes stone lions (石獅, Pinyin: Shíshī) in Chinese art[1],

And is a common representation of the lion in pre-modern China, and were believed to have powerful mythic protective benefits. They have traditionally stood in front of Chinese Imperial palaces, temples, emperors' tombs, government offices, and the homes of government officials and the wealthy from the Han Dynasty (206 BC-220 AD), until the end of the empire in 1911.

Pairs of guardian lions are still placed as decorative and symbolic elements at the entrances to hotels, government structures, estates, homes and other structures, with one marble lion statue sitting on each side of the entrance.