Panda Burgundy/White Fleece Ear Scarf Hoodie Hat In 6 Sizes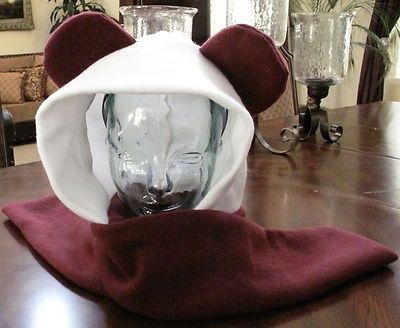 Fleece fabric scarf ear hoodie, burgundy/white hat. The scarf is attached to the hoodie which makes it one piece. Perfect for skiing, cold winter days or just a fashion statement. Comes in several sizes. please pick your size.

COLOR: burgundy /white
FABRIC: fleece

ANY QUESTIONS , PLEASE ASK BEFORE PURCHASE.

SIZE CHART:
X-SMALL: 19 INCHES WIDE
SMALL: 20 INCHES WIDE
MEDIUM: 21 INCHES WIDE
LARGE: 22 INCHES WIDE
X-LARGE: 23 INCHES WIDE

STANDARD ADULT SIZE IS MEDIUM - 21 INCHES WIDE

Please pick your size, if I do not hear from you, I will ship out the standard size which is medium.

"Measurement" : to determine size, please measure around your forehead.