Pecan Trestle Dining Table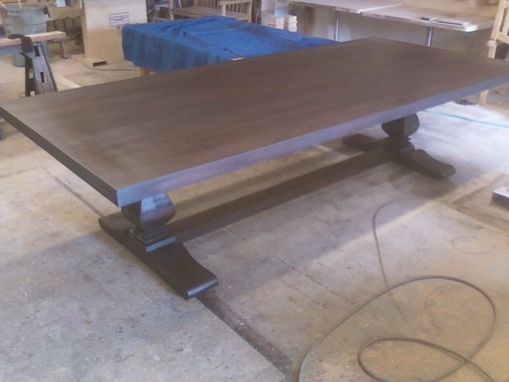 Solid pecan trestle dining table. Custom size, finish and distressing available
All of our products are handmade
by expert makers.
sarah s.'s review

• Dec 26th 2016

Our table is gorgeous, top quality, and will be our forever dining table. Jeff was easy to communicate with and we would work with him again.

Andrew S.'s review

• Jun 28th 2015

Jeff did a amazing job on our table. It came out perfect. I can't wait to find another project he can do for me,

Sam L.'s review

• Sep 23rd 2016

When I decided to go with a custom table, I went in thinking I would receive a quality piece of furniture that I wouldn't have to worry about breaking for years to come especially after what I have spent in purchasing a custom dining table. The process of requesting for a custom table to meet my needs were fine. I questioned Jeff as to what would be done if the table were to arrive damaged at all. He assured me that everything would be fine and that he would manage any issues if they were to arise. The issues started to occur after the delivery of the dining table. Initially, there was a part of the table that was loose when it arrived. Jeff said this has never happened to his tables before and he was great at trying to arrange the pickup, repair and redelivery of the table, but that took some work since the delivery company was limited to my area on certain days for delivery.

After receiving the table, I noticed a faint, small crack or seam that separated along one panel of the table and didn't think much of it. After which, I followed Jeff's instructions on how to prep the table prior to staining the table. Probably about two weeks after staining the table, I noticed the crack became more visible along the same panel but this time it extended 2/3's the length of the table. I immediately contacted Jeff regarding the issue. His response was he's never experienced his tables cracking after he stains his table and suspected it was the stain I used on the table that probably caused the crack. I expressed my concern that I didn't believe the stain caused the crack since only one panel was cracked out of the entire table. If it were the stain, there would be more cracks throughout the table. I asked if there was anything that could be done to fix the issue and he recommended to fill the crack and restain the table myself. After following Jeffs recommendation of filling the crack and restaining the area, the repaired area remains noticeable. Possibly, The panel was defective to begin with and I asked if it was possible for him to fix that panel. Jeff did not address my suggestion to fix the defective panel and I have not heard back from him since.

This experience alone has made me feel cheated of thinking I would be receiving a quality custom dining table. I honestly believe maybe Jeff is capable of building quality furniture. However, it seems that the quality of the materials used is not very well inspected before production. This in turn results in a poor piece of furniture. I never imagined that I would be repairing my own brand new custom dining table in less than a month of receiving it. If I wanted that, I could've spent my money at a no name furniture store for that kind of experience. Quite honestly I am extremely disappointed that I spent so much money on a broken table. I have lost faith in custom built furniture due to this experience.

Brian Wolf's review

• Nov 6th 2017

We bought a pecan trestle dining table from Jeff which arrived in June of 2016. In April/May of 2017, the table began to split in two where the pieces of wood that formed the tabletop were glued together. We contacted Jeff and agreed on a plan to have it fixed locally at his expense since we live in Wisconsin.

We sent him estimates from people he asked us to contact. But, Jeff never replied. Emails, messages through Custom Made, phone calls to his shop -- none were returned. We continued to ping him with messages and finally, in September, he replied saying he had an injury and was backed up but that he would fix the table himself. He said he was arranging a shipper to pick it up at our house. We waited and waited and nothing. We attempted to contact him; but, again he has ignored our emails and messages.

It is now November 6th, the crack in the table is continuing to widen and my wife and I really feel ripped off. You cannot post photos with your review; they would really show you what a poor job Jeff did crafting the table. The woodworkers who gave repair estimates said the table was not sealed properly and have quoted us prices near or above $1,000 to strip, re-glue and reseal the table. What a huge disappointment.