Pendant Based On Company Logo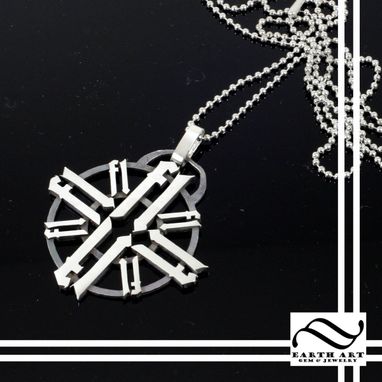 This pendant was a creation which was based directly on the company logo of the customer. They gave me a nice crisp image, and I converted it into a design feasible for a pendant by adding the loop and bail, and also the two concentric circles to hold each element together.

The pendant was then created in wax,and then cast in solid sterling silver. The entire pendant was oxidized and then polished for a nice detailed design, exactly like the customers logo!
Dimensions: This pendant was on the larger side, measuring about 2.5" across. It also included a stainless steel ball chain of any length.
All of our products are handmade
by expert makers.
Daniel's review

• Feb 4th 2013

I am completely satisfied with how the pendant turned out. Communication was great throughout the planning and execution of the project. From the initial interest plans and images I was sent, to the updates I received as the project was being worked on, Austin continuously impressed me with professionalism and an interest in listening to my ideas. I highly recommend and will, as soon as possible, work with this maker again.