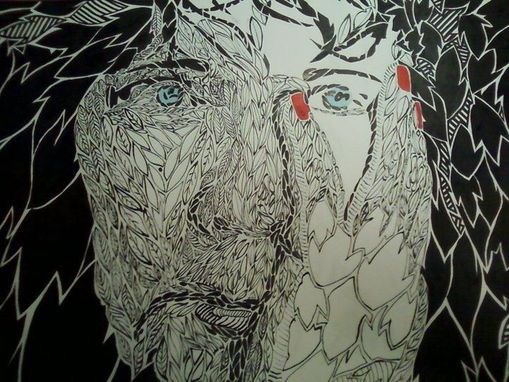 This is a pen and ink, and watercolor self-portrait, done for a class project. It turned out so well that, along with a companion collage done from the same photo, as well as a radial section of the picture, i entered them as a triptych at an AIHEC Conference Art Competition.
It took first place under mixed media. This one was matted in yellow to finalize the four directions colors of black, red, white, and yellow, with blue for health.
I am now taking commissions for pen and ink portraits, using icons which are pertinent to the subjects life. Suppose you were a musician. Clefs and notes, the instrument you play, sheet music stands, etc, could all be incorporated into your features.
Price includes matting and framing complementary to the life portrayed, in a similar size.


Dimensions: 18 inches x 24 inches mounted and matted.
Framing would be somewhat larger, depending on chosen style.