Personalized Firefighter Bobblehead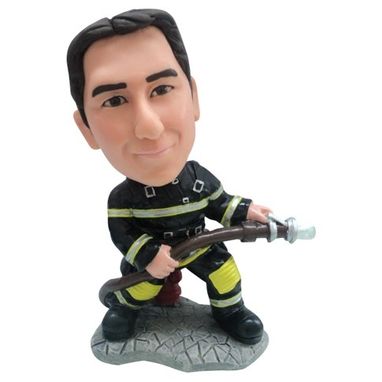 A 3D Mini Me personalized firefighter bobblehead figurine is a very personal gift. The heads are delicately hand sculpted and the bodies have plenty of detail. Both convey a quality item, an unexpected keepsake that will surprise every time.

A firefighter bobblehead. A great personalized gift for a guy or girl working as part of a fire brigade. The bobble head is dressed in full firefighter black and yellow suit, and holds a water hose. A stony looking base holds a street water outlet behind.

This figurine is 5 inches (13cm) tall.

The body is pre-made (no changes allowed) and the head is made to resemble any face photos you provide us, in a cartoonish way.


We need a few things from you to make the figurine. Please DO NOT send these via email, we have a special upload form:


- Good face photos (Ideally 4 angle photos of the heads)
- Eye color (black, brown, amber, green, blue)
- Fixed head, or bobbing head choice
- Delivery address, name and contact number
- Any special notes for the head design


Delivery time is 15 working days. We ship worldwide!

Our Code for this product: Q29



More about our personalized bobblehead figurines

Our firefighter bobbleheads have an oversized head which conveys a funny and cute look. We are proud of creating one of a kind products that are hand made as opposed to mass made. These fireman bobblehead figurines are created by combining age old clay crafting with industrial techniques, which allow us to offer great quality.

We have dozens of bobblehead figurine models about sports, fun romance and jobs. Feel free to browse around them. If you don't see anything you like, then just use your imagination and design your own figurine, with any pose, clothes and props you like.
Dimensions: 5 inch (13 cm)