Personalized Grill Spatulas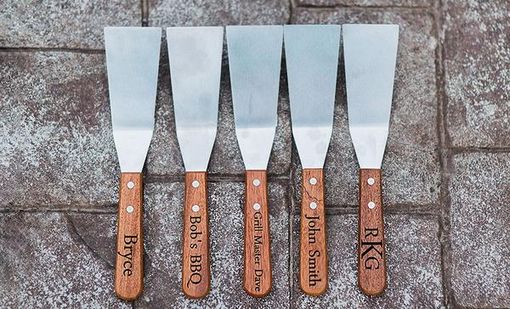 It's grilling season! What better way to celebrate than giving the gift of a personalized grilling spatula? These spatulas can be personalized for your favorite grill master or kitchen cook and are perfect for a special housewarming, bridal shower, wedding, birthday, Father's Day, or Mother's Day gift. They are also the perfect gift for a dear friend or neighbor. Combine a personalized spatula with a bottle of your favorite BBQ sauce and you have a gift that will truly delight the recipient. These spatulas have a large stainless steel 5 ½ x 2 ¼" blade with a generous total length of 10". The wooden handle is the perfect place to add your personalization with one of 5 design options. Become the master gift giver with these delightful spatulas! (And make sure to pick one up for yourself as well!)

Your order includes a free mock up of the design so that we can make sure that it all looks perfect for you!
All of our products are handmade
by expert makers.