Pine Stump And Alder Coffee Table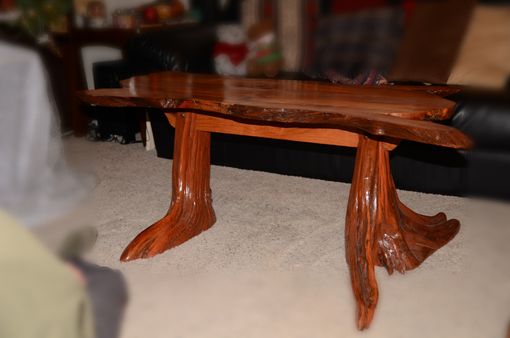 This piece started as a sun dried stump that I came across years ago and visualized as a coffee table. My original vision changed, somewhat, because it would have made a small coffee table so I decided to incorporate alder to expand the size, and I liked the way the alder brightened the pine. All of the pine used came from the original stump. I cut the stump into slabs with a hand saw and biscuit joined all top pieces. The top is attached to the base and stretcher with a sub-top that is fastened with wood screws that run through slightly over-sized holes to allow expansion and contraction of the top. The legs are attached to the stretcher with dowels that run through both pieces. Some faux technique was used to even the darker wood around the perimeter and blending the alder in one of the legs with the pine, only one is solid pine but I think they both look natural. The entire piece is stained with a custom red oil based stain and finished w 3 coats of brushed lacquer and 1 coat of sprayed lacquer.
There was 1 piece of the stump remaining and it is now a beautiful wine bottle holder.