Place De La Musique Ceiling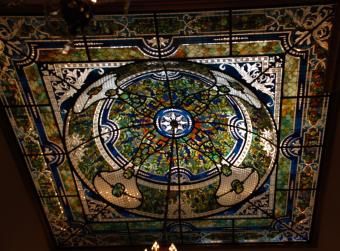 A twenty by twenty foot ceiling in the foyer of the Place de la Musique near Chicago. The design has descending westeria and snowball flowing down through a bevel scroll. The dome weights about 3,500 pounds and contains over twenty thousand pieces. Every piece of glass is hand picked. The background color phases from the center outward.
Dimensions: Outside dimensions are 20 foot by 20 foot with a 14 foot dome in the center with a 3 foot rise.