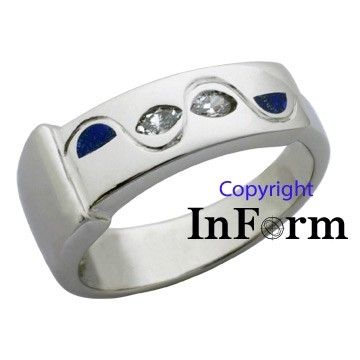 Working closely with a customer, it was explained to me that he wanted to have me work with him in designing and making a platinum engagement/wedding ring set without incorporating expensive stones. The main elements he wanted incorporated into the engagement ring was, first and foremost, that it have a very low profile AND a very visible undulating or serpentine line. He opened up the possibility of incorporating small gemstones, if he felt doing so might make visual sense.

Having worked through the process with him, we ultimately landed at the solution seen in the accompanying photo. A sinuous line meanders across the top plane of the ring. Within each of two of the four concave portions of the line, a half round piece of lapis lazuli has been inlaid. Inside of the two other concave portions of the line, one small marquise diamond has been set flush with the surface of the metal.

This pictures shows just the engagement ring. Unfortunately, I have no decent pictures of either the bride's or the groom's wedding rings, which very closely fit and interact as a complete set of rings. One of these days I may be able to talk the customers into letting me refinish their rings, at which point I'll be able to shoot new pictures to augment the visual description of the set of rings. For the time being, this one picture will have to suffice.