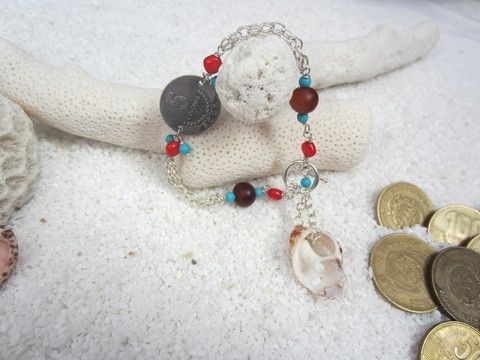 Nosara Costa Rica is Playa Vida (beach life). Sparkling water, waves, hot sand and miles of seashells. Beaches lined with with trees that seem to stretch into the surf, accented by richly colored flowers perfect to wear behind your ear. A wonderful feeling of excitement and relaxation that pulls you in.

Sterling silver plated double chain bracelet with golden amber horn, petite coral & turquoise beads, drilled colones coin & seashell charm from Nosara beach. Sterling silver plated toggle clasp with flower detail.

Length 8" additional charm drop of 1 1/2"
Can be altered for your perfect fit

These hand made pieces use all natural stones & metals, each piece will vary slightly. Each shell charm will be different, special & unique. All shells were found at low tide in the surf by the designer.