Polaroid European Style Charm/Pendant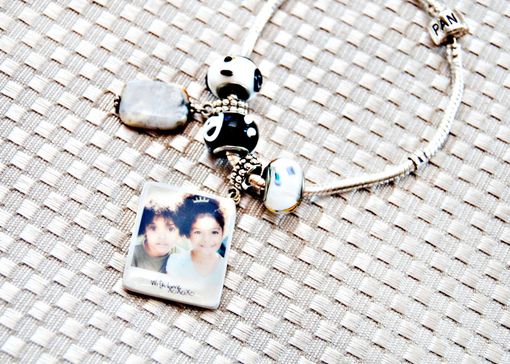 This is the perfect present for every single Holiday! Think Valentine's Day, Mother's Day, Father's Day, or just because!
All "Portrait Tile" items are strong and lightweight. Each piece is anti-tarnish treated before your images are applied. We use a non-acrylic, acid free mixture to permanently seal your image onto the piece. Your images are not glued onto the tile, they are part of the tile. They are water resistant, scratch resistant, ultra hard,and assembled with only the finest .925 Sterling Silver components.

It fits any European Style Jewelries.
Multiple sizes and shapes available.

All charms come complete with care instruction and organza sachet for ready to give gift.
Bracelet and Beads are not included in this listing.

Please with your order include the following :
*A full resolution picture to our email address ( if u don't have a digital copy available u can also send us a regular picture by mail that will be returned with your completed order. We will provide the necessary cropping and/or resizing).
*Your choice of full color or Black & White picture.
*Your choise of note, quotes, initials etc for both front and back.

Turnaround time after the photos are received to complete the order is 7 to 10 days even if most of the times the orders are completed and shipped out within 3 to 5 days.