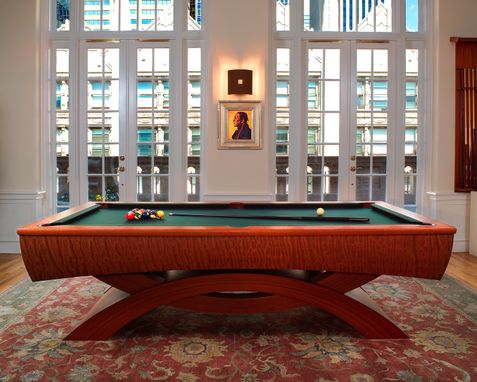 Great care was taken in material selection to ensure a balanced and even look in this cantilevered pool table with a curved motif. The bent laminations each come from an individual board that is ripped sequentially, centrally tapered and then laminated to produce the flowing curved beams for the table base. With simple curves and shapes, the design for the rails and blinds continue the spare elegance of the table. The pool table represents 950 hours of design and fabrication time. Design and Engineering: Tom Pearce and Dave Boykin. 'Billiards dynamics' by Jeff Anderson of Anderson Originals. Fabrication: Jim Price, Mike Clapper, Phil Mann, Tom Pearce and Dave Boykin of Boykin Pearce Associates. Cushions, pockets, slate and fabric installed by Anderson Originals. The base consists of a 'flitch beam' configuration that utilizes a laminated plywood and steel construction. The result is a highly rigid table with a corner defection of .003 under a 250 pound point load. This well exceeds the American Billiards Congress standard of .010 defection under load. The flitch beams are then covered with tapered and bent laminated Honduras Mahogany and have a Quilted Makor ridge between them. The curved and canted blinds of the table are also Quilted Makor and the remaining structure and top rails are Mahogany. The inlaid sights are Gabon Ebony. The playing area consists of Artemis K-66 cushions, 1' thick 3 piece Brazilian slate, RC Designs leather pockets and Simonis fabric. The 4 ft. X 8 ft. table weights approximately 1200 pounds.
Dimensions: 4 ft. X 8 ft.
All of our products are handmade
by expert makers.