Portable Self Contained Outdoor Kichen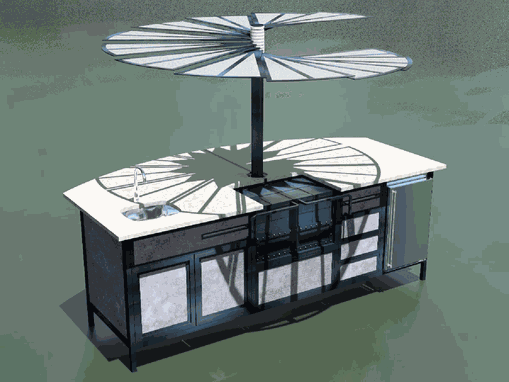 This design spawned from years of designing and building custom kitchens as well as building barbecues and smokers. "I have always liked cooking and entertaining outdoors" Wanting an outdoor kitchen for years, I have come close to building one several times, the only thing holding me back was the thought of moving some day and leaving my beloved kitchen behind. So the idea was born I am going to build a mobile kitchen. I put pen to paper so to speak and came up with my dream grill.

I will have the first prototype finished by March 2016. This kitchen has all of the bells and whistles. The grill doubles as a smoker utilizing the solar umbrella support as the chimney keeping the smoke out of the way. The grill doors slide under the counter keeping them out of the way while you are entertaining your guests. The umbrella has built in solar cells charging an on board battery bank that powers the refrigerator, water pump and low voltage lighting. Also included on board is a ten gallon fresh water tank and a ten gallon grey water tank. The exterior of the kitchen is clad in natural stone, I am using sandstone for the sides and granite for the top but any combination of materials can be used.

I have designed this kitchen to last a lifetime outdoors. The frame is built from heavy gauge tube steel all welded construction with a high temp powder coat finish. What makes this unit portable? It is equipped with heavy duty stainless self leveling casters with built in shock absorbers, these casters are custom made in Germany and designed for heavy loads and rough terrain. Once the kitchen is in place the casters are raised allowing the kitchen to sit firm and level. This unit is ten feet long by five feet wide and stands at 42 inches tall. But any size combination is available.

If you have been wanting an outdoor kitchen without the hassle of building a permanent fixture in your yard contact me. I will be happy to help design and build one that perfectly fits your needs.