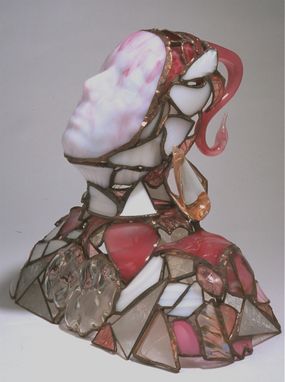 This is a three dimensional portrait made of glass and ceramic pieces. I create a plaster cast directly from your face and this creates a plaster mold over which glass is slumped in a special kiln for glass. I then pair the glass face piece with blown glass, found objects, memorabilia, flat glass pieces and whatever I can find to create a one-of-a-kind glass portrait.
These portraits are personable, thought provoking, and sometime uncanny in there intuitive insights. In the past I have worked with family groups, couples, individuals, children, and seniors all with incredible success and ingenuity. These make great additions to your home environment, as a lighting element or as a great conversation starter.
Each piece tells a story, the story is directed by the maker, the individual being portrayed, and Spirit. Colors, shapes, size, the message, mood and gesture are all taken into consideration and included in the final product. Different prices and sizes are available to meet different needs.
Dimensions: 16" x 18" x 10"