Princess Leia White Dress In 5 Sizes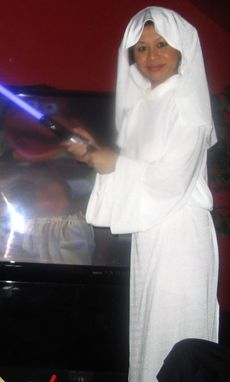 Princess Leia white dress in 5 sizes.
This dress is Rebel Legion approved.
Stats: No shoulder seam,dress is doubled with split on the side seams from the hem to almost your knee. Deep hood which attaches to the dress around the neck seam and has a split on center back seam with mandarin collar, which has an opening in center back to slide your head through with 3 snaps for closure.
Fabric: jet set poly
Color: white
Dress comes in 5 sizes .
After purchase please provide measurements such as height ,waistline, bust line, sleeve length & neck measurement.
Any questions, please ask before purchase.
This dress is doubled which means it is lined with the same jet set poly fabric to achieve accuracy for those seeking the membership status to the Rebel Legion.
Any questions please ask before purchase.