Princess And The Royal Family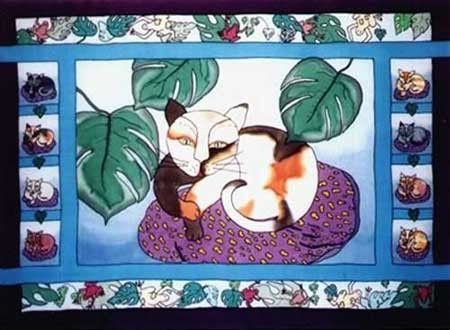 Handpainted on Silk, Original Design using Serti Resist technique. Princess and her family are seen here mounted without an outer frame, but can be presented with a frame as well. The painting can also be made into a soft hanging with a top sleeve to insert a rod.
The top and bottom details include frogs and philadendron leaves. Frogs symbolize the spirit of water and the flow of emotions. The cats are quite interested in the frogs but are playing it cool.
This painting was Inspired by a cat loving friend who claims that she no longer had problems with mice in her house since she hung the painting of the Royal Feline Family!
Dimensions: Approximately 24" x 32"