Private Listing For Braden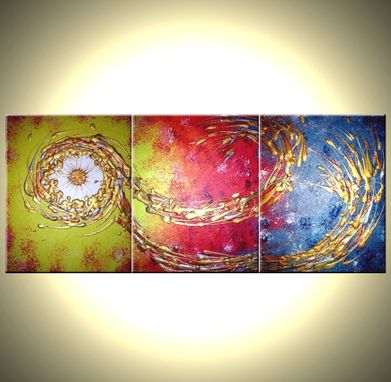 PRIVATE LISTING - COMMISSIONED PAINTING FOR BRADEN. PLEASE DO NOT BUY UNLESS YOU ARE BRADEN OR PURCHASING FOR BRADEN. IF YOU ARE NOT BRADEN AND WOULD LIKE A SIMILAR PIECE PLEASE CONTACT ME VIA THE 'MESSAGE SELLER' LINK.


Abstract Gold Original Huge Bronze Copper Textured Painting By Dan Lafferty - CELESTIAL WINDS - 30 x 72 - Contemporary Abstract Art, Acrylic On Canvas
Painting Details:

"CELESTIAL WINDS"

- Painted in Blues, Yellows, Magenta, Metallic Silver, Bronze, Copper, Golds, and Titanium White On a Huge 30" X 72" (Three 30"x24" Canvases Set Together)and 3/4" Deep Gallery Stretched Canvas.
- Gallery Size Original Palette Knife Painting.
- Painting Can Hang Vertical or Horizontal.
- Edges Are Staple Free (Stapled On The Back) And Painted
- No Framing Is Required.
- The piece is composed of 3 canvases. The listed price includes ALL 3 canvases.
- Note: The middle portion of the piece is actually a bright yellow, it appears mustard/greenish on some computers but is actually a brilliant yellow.

*Please note the metallic paint makes the art very reflective, causing a glare when photographed.

Artist: Dan Lafferty

Title: "CELESTIAL WINDS"

Media: Acrylic

Support: Canvas (Stretched) on Wood Frame

Size: 30" X 72" X 3/4" (depth)

Est. Gallery Price: $1499.00 - Certificate of
Authenticity Included

Notes: Ready to hang - No Framing Necessary. Wires Not
Included

Style: Metallics, Abstract, Contemporary, Modern, Urban,
Expressionist, Industrial.


About The Painting:

- This is an ORIGINAL PAINTING - not a print of any kind.

- This original modern abstract painting was created on Acrylic Titanium Primed Acid Free Canvas.

- This painting is signed by the artist on the back.

- Stapled on the back - The sides of the artwork are painted so there is no need to frame but you may if you like.

- Only professional grade paints were used on this painting.

- A final coat of high quality varnish has been applied to protect the surface of this painting.

- A Certificate Of Authentity is included with this painting.

- This is a commissioned piece - I will create this painting to the best of my ability immediately upon payment. Commissioned paintings take about 5 days to complete.
All of our products are handmade
by expert makers.