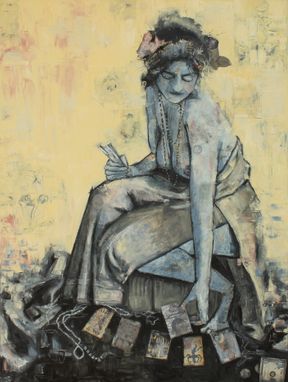 40 x 30 on canvas:
This piece is created using antique postcards, maps, letters and other ephemera. The piece is then topped with oil paint.

Kyle Stanley's recent series is an exploration of cultures around the world through the late 1800s....
Art is about new experiences, this collection is a transcendental expedition into world cultures throughout the ages. These works are embedded with antique maps, photographs and post cards, adding patina and lived experience to celestial veneers. Mixed media collage features antique post cards, maps and photographs, and oil paint on canvas and wood panel. History, world cultures and a stir-crazy wanderlust inspired these pieces; many of which were created while in self-isolation during the 2020 pandemic. Serenity is a definite theme, however it can come in many varieties: calm serenity, serene confidence, serene intensity, blissful serenity, and even serene desperation.