Queen Or King Wrap Around Bed Quarter Sawed Oak, Walnut, Cherry Lumber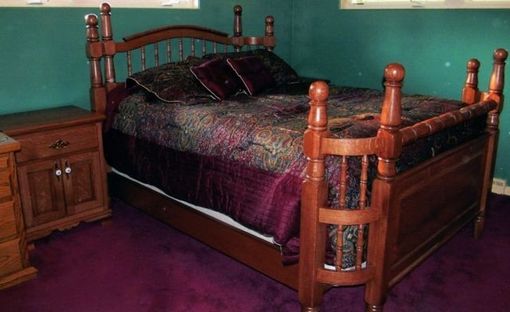 I can make a queen size or king size wrap around bed in walnut, oak, of cherry lumber. I can also build all of the bedroom accessories that you need to have a beautiful bedroom
All of our products are handmade
by expert makers.
Carl's review

• Jul 3rd 2017

It was great working with Tom on our project. I contacted Tom originally almost three years ago and described our desired project to him. However at that time I experienced some financial difficulties and had to cancel just before finalizing the project.
Fast forward three years and we were back in a position to move forward with the original project and Tom was kind enough to respond and was willing to once again take up the project. It was a large project that included a bedroom dresser with a hutch, a night stand and a wrap around Bed; Amish style.
Tom completed the project and we made plans to visit him at his home and pick up the set in person. Tom and his wife took the time to spend an entire day showing us around the area and visiting several Amish stores in the area of Ohio in which he lives. My wife and I thoroughly loved our time with them.
Oh, and did I mention we love the bedroom set and would highly recommend Tom for your projects in wood. He is a highly talented woodworker who takes pride in his work and has the skill to create your dream.