Dyed Silk And Lace Backless Gown "Queen Of The Nile"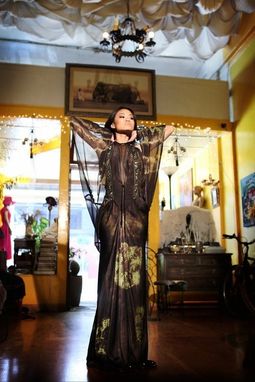 I designed this dress with the famed Queen of the Nile in mind. It is made of charmeuse silk, which I personally dyed to create this look of light patches on a black background. I used cantelle lace as a sheer cover of the décolletage. The gown comes with a sheer scarf and glove ensemble as well. It is sleeveless and backless, an elegant, yet cool and airy piece for those warm and fancy evening parties during summer.

Be as classy as Cleopatra herself. Send me a message along with your height, bust, waist, and hip measurements, and I will make you your very own dyed silk gown that's perfect for your form.