R2d2 Impressions In 14 Karat White Gold - Engagement / Wedding Ring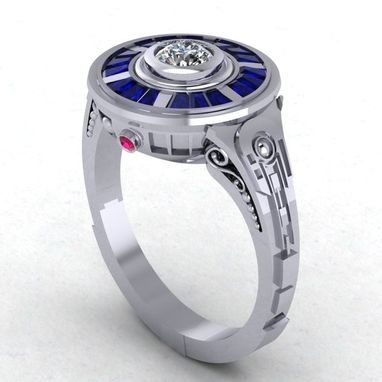 The droid inspired engagement ring with embossed details and a fashionable taper in 14 Karat white gold. Set with a real ruby eye, custom cut created sapphires and your choice of center stone. This item is totally customizable too so special requests are always welcome.

Since all of our items are made to order, please allow 4-6 weeks for production.

**Disclaimer** The pictures shown are renderings of live geometry in a CAD model. Therefore the actual piece may look slightly different. Each piece is made by hand in our studio, and there are natural variations inherent to the process. We offer a 100% satisfaction guarantee.
All of our products are handmade
by expert makers.
Jeremy B.'s review

• Nov 19th 2017

Paul is an amazing artist. The R2-D2 engagement ring is amazing. Pictures don't do it justice. Communication was good, although there were a few instances that I did not receive a quick response until after a couple of times reaching out. Shipping was fast, which is great after having to wait for it to be finished. Paul obviously takes his time and puts his heart into his work. He was also gracious enough to resize it after I messed up and ordered the wrong size. I am excited to work with Paul again to get my ring made.

Josh L.'s review

• Jul 20th 2017

Absolutely love the final product. Looks just as it did online and is simply beautiful. I wasn't expecting such a nice box! The box was a nice surprise with a little light inside to really make the gems pop.

I sent an email shortly after placing my order and it was answered within hours. I added a time stipulation and it was able to reach me on time!

Fantastic. Would order from again.

Philip B.'s review

• Jul 27th 2016

From my fiancée below. Also kudos for the ring arriving over a week earlier than expected.

This is the most beautiful ring I could have imagined! I could tell right away it was made to look like our favorite little droid, R2, but friends who are not as knowledgeable of all things Star Wars just see a beautiful, elegant, unique ring. My fiancé could not have made a more perfect selection!

Andrew P.'s review

• Apr 11th 2016

I (and now my fiance) couldn't be happier with the R2D2 ring. Paul's communication was spot on, couldn't ask for anything more, he was timely, and kept me up to date on the status. He is a master artist, that takes great pride in what he does, and it shows in his work.

The everything is incredible, down to the smallest details, like the thank you note, written in Galactic Basic (star wars language), the ruby for R2s sensor. I cant wait to have Paul create another project for me. Thank you Paul.

Jesus R.'s review

• Oct 20th 2015

AWESOME! Better than the pictures!