R2d2 Inspired Halo Engagement Ring 14 Karat White Gold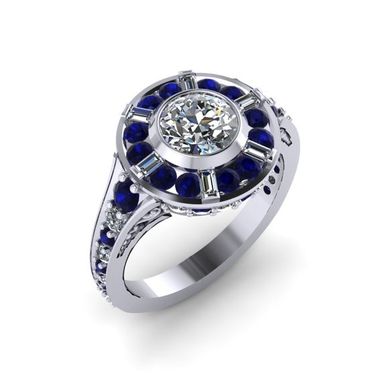 A subtle R2-D2 inspired halo ring set in 14 Karat white gold, an homage to the character in the Star Wars films. Set with a real sapphires , round diamonds and diamond baguettes with your choice of center stone. This item is totally customizable too so special requests are always welcome.

Since all of our items are made to order, please allow 4-6 weeks for production.

**Disclaimer** The pictures shown are renderings of live geometry in a CAD model. Therefore the actual piece may look slightly different. Each piece is made by hand in our studio, and there are natural variations inherent to the process. We offer a 100% satisfaction guarantee.
All of our products are handmade
by expert makers.
Tanya G.'s review

• Dec 24th 2015

I can not express enough how happy I am with my R2D2 Inspired ring! You are an amazing talent. I plan to buy another someday soon. Also thank you for the special shopping and having it sent so quickly so I can enjoy and show it off for the holidays. You are a genius.

Scott Z.'s review

• Jun 26th 2015

I never bought anything from Custom Made before this ring! I was a little nervous, but saw the ring and like to gamble, so I rolled the dice!

I figured if it goes well I would have the exact ring i wanted for my our special day!

The ring took longer than expected so I was a little nervous! Paul kept me informed and always got back to me via email within hours of writing him!

The reason it took longer than expected was do to casting problems in the ring! Paul takes such pride in his work that he wouldn't release until it was perfect! The craftsmanship in Pauls work is impeccable! Tiffanies step aside theres a new master jeweler and you recieve more than you pay for!

I am astonished how beautiful this ring is. The pictures do it no justice. I received the ring exactly a week before I am going to propose. He even made it more custom for me by adding a Ruby in place of another stone. As a sculptor myself I appreciate him letting me change his original vision!

Would I recommend him to build jewelery to anyone? 1000% yes! Will I be a repeat customer 2000% yes!

Thanks Paul and Jeseline for your help it has been a great experience!

Scott Zabielski
Chicago, IL

Ryan K.'s review

• Feb 3rd 2015

The ring took longer to get to me than listed, but paul had said it could take a little longer to get larger stones.
The ring made the wait well worth while. Its absolutly beautiful. The pictures dont do it justice. I highly recomed using paul and would buy from him again.
Its an amazing custom ring which exceeded my expectations!