Rags Designer Remake J. Crew Jeans With Animal Print Chiffon Ruffles Ladies Sz 6 (088-W)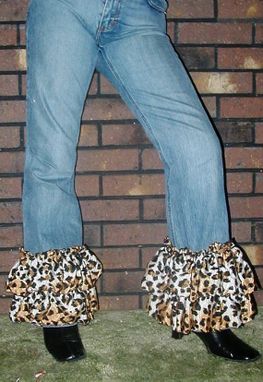 ITEM # GG0088-W........... Ladies' SZ 6

"Rags" is our new designer collection. From name brand collections, such as American Eagle, Liz Clairborne, Levi, Bill Blass, J. Crew & more, we have brought back the designer cuts and added a flare with patches, fringe, & more. Make your fashion statement with this newest fad.

This pair is Ladies' Size 6 J. Crew. Although we made no designer cuts, the instyle threadbare areas give dimension and the soft animal print chiffon ruffles add that touch of class.

Watch for other "Rags" Designs in Ladies & Childrens sizes.

OUT OF COUNTRY ODERS REQUIRE LONGER SHIPPING TIMES DEPENDING ON DESTINATION LOCATION.