Rainbow Pegacorn Mama&Baby Cake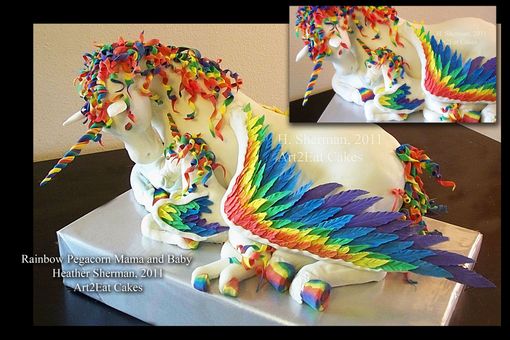 This Mama Rainbow Pegacorn Snuggling her Baby is edible sculpture, created of cake, rice crispy treat, fondant, and gumpaste. Mane, Tails, Wings, Feathers all of shaped sugar, 100% edible. Internal supports inside wing-bones and head ONLY, all 100% food-safe. This was created as a birthday cake, but any occasion would fit. It is also now an internet sensation - this cake has been re-posted/blogged over 50,000 times! All my Cake, Swiss Buttercream Icing, and Fondant is made from scratch, in-house, to-order, and is very tasty as well as beautiful. Cake like this is more like performance art; guests take photos, enjoy it all through your event, and then you cut it in a grand finale they talk about for days! Let's make YOUR dream cake :-) No idea too extreme! Custom orders a specialty. Shipping NOT available on cake - pickup or delivery ONLY. I am located in Boulder, Colorado, and will deliver on a custom basis. I require a 2 week minimum before delivery in order to insure all feathers have hardened sufficiently. Not all calendar days available, please check with me to see if your date is available, and order early to ensure getting your desired date. Please contact with questions or requirements not addressed!
Dimensions: Original shown here was approx 18''x12''x6''. It served approximately 25-30 people. Can be re-sized to fit any event on a custom basis. Various cake flavors available. Refrigeration recommended until the event.