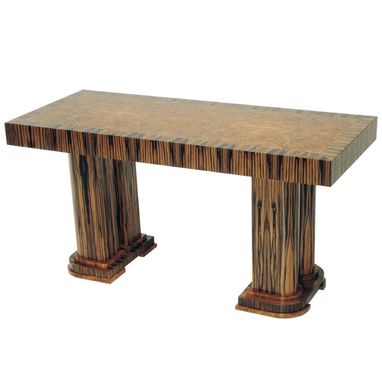 This Biedermeier inspired design was originally created in the late 1980s as an awareness raising piece to encourage the responsible use of rainforest woods. A part of the proceeds from the sale of the original desk went to support W.A.R.P. (Woodworkers' Alliance for Rainforest Protection). Because W.A.R.P. has since been merged with other groups, these proceeds now go to support the Forest Stewardship Council (F.S.C.) and the World Wildlife Fund.

Woods typically used in the creation of the Rainforest Desk are FSC certified as being derived from sustainable sources.

This is verified by independent third party audits under Smartwood certificate #SW-COC-000055.

All glues used are non-UF (urea formaldehyde) while the water based finish is low-VOC (volatile organic compound) and is doctor recommended even for those with chemical sensitivities.

It is for these reasons that this design is Greenspec listed at my website.

The specifications of the Rainforest Desk are also consistent with the sustainability standards set out by the U.S. Green Building Council's stringent LEED (Leadership in Energy and Environmental Design) program, namely the MR-7 Credit for certified wood use; the EQ Credit 4.1 for Low Emitting Solvents and Materials; and the EQ Credit 4.2 for Low Emitting Materials, Paints and Coatings.


Dimensions: 60"w x 24"d x 29"h
All of our products are handmade
by expert makers.