"Raygun" | Mixed Media On Panel | 48×48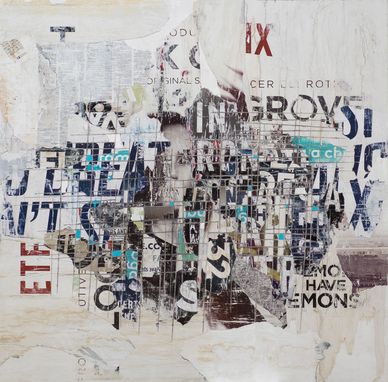 David Fredrik "Raygun" Mixed Media on Panel
48×48

David Fredrik Moussallem's mixed-media works blend chaos and harmony, all while expressing different "stories from the streets". Extensive world travels inspire his focus on global subcultures and urban street life. His background in Advertising, Graphic Design, and Typography heavily influence his compositional approach, and he describes his heavily layered pieces as "revealing our differences and similarities in a raw and honest approach."

David Fredrik deconstructed carved collage works immediately made a strong impression with collectors and curators, and in only a few short years he was named an "Artist to Invest in Now" by Saatchi Art. He has garnered a world-wide following of private collectors and his work currently resides in over 15 countries. David's paintings have been published in Condé Nast's "The World of Interiors" and German Art Annual "Internationale Kunst Heute – 2016".