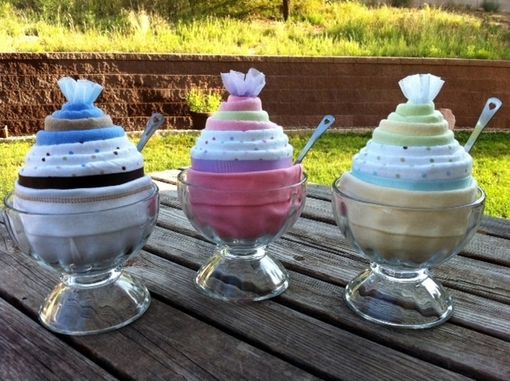 What expectant mother doesn't crave ice cream!! Well, then she'll LOVE a ONESIE & RECEIVING BLANKET SUNDAE! Each sundae includes a combination of several of the following items:

* receiving blankets
* onesies
* washcloths
* headbands (for girls)
* cotton hats
* socks
* 1 glass sundae cup
* 1 infant spoon

All sundaes are handmade and ONE OF A KIND. Since no two sundaes are the same, please contact Ellie Bee's with ideas on colors, themes, and/or items you'd like to have used in your sundae!

EACH SUNDAE also comes with a gift tag containing a list of items within the sundae! Your new mom will be able to keep her sundae intact to show it off (if she wishes) until she needs her items! :)

Please note: your item will come to you in 3 seperate pieces: the "sundae", the cup, and the spoon. Please reference your picture to "re-assemble" your sundae!