Reclaimed Chalkboard With A Towel Bar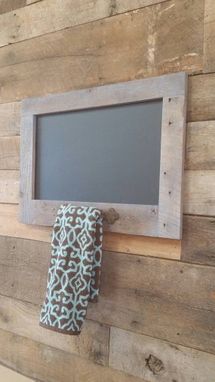 This is a sample picture of one of our chalkboards.

We can make them horizontal or vertical with a cast handle that works great as a towel bar.
If you would rather it have coat hooks, we can add them to the chalkboard instead.

The size would be 18" x 23".

The chalkboard is a high-grade vinyl chalkboard that works great with chalk or chalk pens.

Please contact us if you would like a custom size made.