Reclaimed Teak Serving Tray #1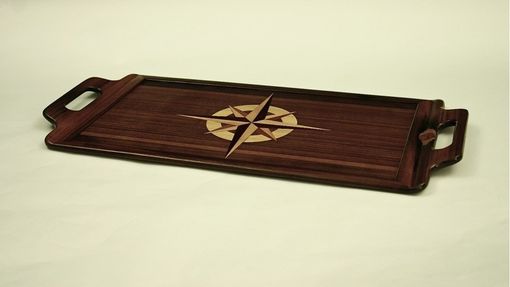 One of a new series of work constructed from the original teak deck boards of the USS North Carolina Battleship - BB-55. The History carried on....

When it came time for Captain David Scheau to retire from his post on the USS North Carolina Battleship- BB-55, the crew wanted something truly special to present to him. They approached Sandy about creating a serving tray from original deck boards that were removed during renovation.

When the USS Gravely was to be commissioned in Wilmington, North Carolina, the (then retired) Captain Scheau asked Sandy to create a similar serving tray. This tray was presented to the USS Gravely during the commissioning ceremony.

These trays were so well received that Sandy decided to create a limited number (5) of additional trays. Each tray comes with it's own certificate of authenticity.

Sandy used this opportunity to conduct a study of the compass rose with his wood inlays. This particular tray contains inlays of purple heart, maple, mahogany and poplar.