Reclaimed Wood Chevron Conference Table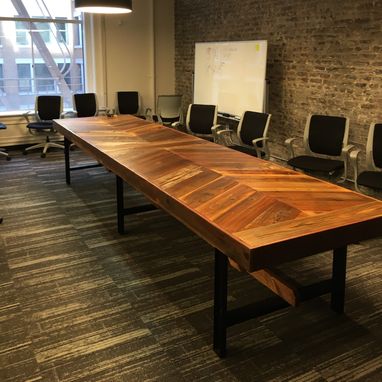 We used forged metal legs to add even more class to this gorgeous chevron conference table. This is 15 foot. We can build this for you in any size! Staring price is for a smaller table.
All of our products are handmade
by expert makers.
Abby O.'s review

• Feb 26th 2016

Absolutely AMAZING!!! Brenda and Ron went above and beyond our expectations! The end result was absolutely gorgeous, they got it done early as we asked (even though it was a HUGE ask of them). They kept us in the loop at all times, replied right away. I could go on and on. They'll be my first call if we ever need anything else. Amazing people/products here!

justene s.'s review

• Jun 21st 2017

Kristen W.'s review

• May 21st 2016

Here are the facts. They should more than explain why I'm giving this company one star.

I will start by saying we are located in Austin, and Urban Mining Co is located in California. So, before I hired them, I made sure to clarify that shipping costs needed to be included in their quote, as I was also bidding local companies.

They offer the best (overall) quote for two custom projects: A conference table, and a reception desk. The conference table was going to be a quick turn around because they already had it in stock, and the desk was going to be about 6 weeks to complete.

Once we were under contract and I had made the deposits, I took it upon myself to get another shipping quote to compare and see if I could save a bit of money. Urban Mining co's people were significantly cheaper for the table, so I decided to stick with their shipping company. When the table was actually ready to ship, Brenda let me know that she was misquoted by her people by about $800 on the cost to ship the table. I wound up circling back with my contact and scheduling the delivery, as it was slightly cheaper. Brenda agreed to deduct $400.00 off the cost of the next project, as this significantly delayed the timing and was a LOT more than we were originally quoted. Even with this discount, we were still going to be paying more than originally quoted. Not a huge deal, but an annoyance.

<SIDE NOTE: While trying to figure out the shipping dilemma, I requested a phone call from Brenda FIVE times. She never called, instead would reply via email. I explained to her that we could sort through things much faster via phone and the email exchange was only delaying the shipment. She said they got terrible reception in their shop and that her husband Ron would call me at XX time on XX day. He never called.>

The conference table arrived two weeks later than anticipated due to the lengthy back-and-forth via email and confusion on shipping. The table was nice, but did not have any sort of finish on the top of it, so people won't be able to use it to write on. Overall, it was nice but nothing special for the cost and headache to get it here.

It only got worse from here. I should have backed out of the second project, and Brenda gave me the option to do so, but I went against my better judgement and had them move forward with building the desk. I MADE SURE TO HAVE BRENDA DOUBLE CHECK THE COST OF SHIPPING THE DESK BEFORE MOVING FORWARD.

Again, there was confusion on some of the features of the desk - like file cabinets - and a lot of back and forth via email because they wouldn't call to discuss the details. Three days before the project was said to be completed, I got an email from Ron saying that the shipping cost was going to be more than expected because it was going to weigh more than they thought.... WHAT?! I responded that this was completely unacceptable and I would only pay what I was quoted (and requoted) for.

Two days later I received an email from Brenda saying that Ron hurt his back and they were unable to complete the project, and I got another email from Custom Made saying my deposit had been refunded. Even if this was true, the project should have been 99% complete by the time they let me know.

I DO NOT RECOMMEND HIRING URBAN MINING COMPANY FOR A CUSTOM PROJECT. ESPECIALLY IF YOU ARE NOT LOCAL. ESPECIALLY IF YOU APPRECIATE MAKING SURE DETAILS ARE TALKED THROUGH VIA PHONE.