Red Rose Stone, Ready To Ship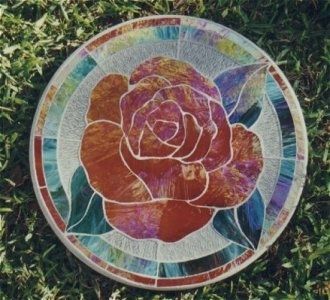 This is a beautiful stone, just for your garden. Full of irridized glass. Has a double border, the outer border matches the red rose, the inner border is of dark irridized glass. The background is of wispy white, with deep green leaves.

All of our stones are sealed against the moisture, so in the garden is good. The concrete stone is reinforced for durability.
Has two hangers in the back, just in case you wish to hang it. The stone is almost 16" in diameter.

As with ALL of our stones it has been treated with a sealer for weather proofing.

The stone is packed in thick Styrofoam sheets surrounding the stone. And is insured for the full price of the stone.