Red Winged Blackbird Painting By Michael Lumbrazo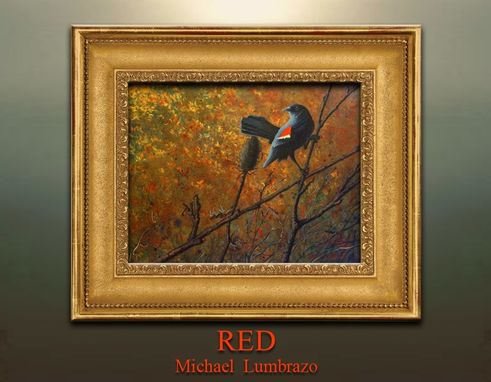 For Sale

RED | Red Winged Blackbird Painting
Size 24" x 30", Acrylic on portrait canvas.
Purchase price of Original Painting: $4000 plus shipping and handling

"Red" depicts a Red Winged Blackbird in search of a mate during the fall season. Captured just before taking off from its rest, the Red Winged Blackbird spots its mate in the distance.

My choice of palette for "Red" were fall colors to portray the colorful memory from many a day in the fields of Central New York. Using Cadmium red, yellow ochre, Buff white, cadmium orange and yellows along with a mixture predominately consisting of Payne's grey to add depth to the painting.

My vision for this painting was centered around vibrant colors and smells of the fall season in the northeast. "Red" is intense with frozen energy captured for the viewer to engage and feel the seasonal madness.


All of our products are handmade
by expert makers.