Wine Holder From Repurposed Wood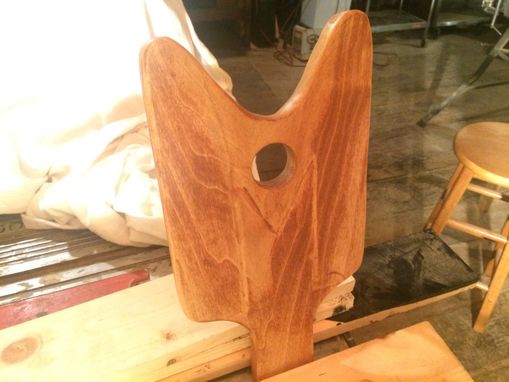 Using some old birch wood I found, I used this to make a wine bottle holder for someone who wanted it for a dual purpose, a wine holder but also able to use it as a cutting board for cheese. I set out with a piece on my scroll saw to come with an exaggerated "M" (which is the letter of the persons last name). Then I traced out an "M" inside of it so I knew where to carve those lines. The next step was cutting the angle on the bottom of it at exactly a 27 degree angle. After that, I spent a few hours on the belt sanders, a 3" and then a 1" to curve the piece more and round all of th edges.
Nest came carving the initial in the piece. Using a few different carving tools, I made it rustic and rudimentary. Before I was ready for a final sand, I cut the 1-1/2" hole for the bottle.

Finishing this piece off, I used a maple stain. After this is dry, it will be going to the new owner.

All of our products are handmade
by expert makers.