Restaurant Or Cafe 3 Panel Signs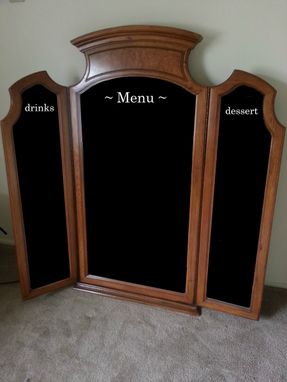 Great for menus in restaurants, cafe, cafeteria. One of a Kind - CUSTOM MADE and HAND PAINTED FRAME! Selection from 3 ornate designs for the center panel. Great Chalkboard sign made from mahogany wood.

FRAME PAINT CHOICES: ORIGINAL, CREME, WHITE, GREEN - whitewashed for all options
Board Type Choices: Framed Antique Magnetic Chalk board/ black board OR Fabric covered
SIZE OF BOARD: Extra Large 3 panels - sides 12X52 and center 25X52

Beautiful Handmade Board from Antique Framed Mirror - 3 GENERATIONS OLD, Over 70 years old EXTRA LARGE AND MADE TO ORDER. This piece is made from a 70 year old ornate antique frame. Beautiful and Solid

Custom Services: I will work with you to make it fit your decor. You can have the original frame distressed a bit more or have it whitewashed in white, creme, or green. If you prefer another color, purchase and indicate in the notes. Choose this one or another from my collection. You can also collect several as they are art pieces. Each one made with great care and one of a kind.