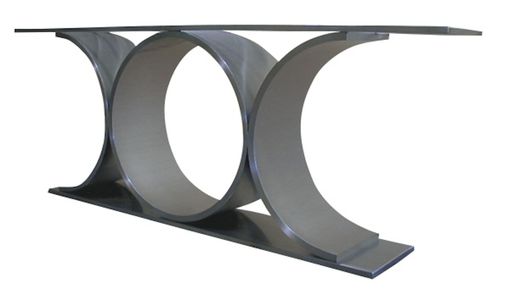 This table was custom fabricated for a lobby in a downtown L.A. office. It's massive size was designed so it would not be lost in the large lobby. This table was not only massive in size but in weight. Weighing over 2000 pounds and that was before the marble top was set on it.

Each section was precisely rolled to form the perfect circle and half circle. Special welding techniques were used to stabilize and reinforce each section. The table was satin finished by hand in Stainless Steel.

If you have an idea or a rough sketch of a custom table you would like to have made just for you... give us a call. We are experts in custom fabrication.
Dimensions: The table measured 16" wide x 100" long x 36" hi. Each ring and half ring measured 1-1/4" thick.