Rings Made From Lapel Pin (Inspired By Fbi)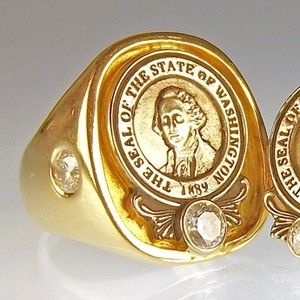 In their fifth year of service, FBI agents receive a gold lapel pin. Many of the agents convert the pins to rings, so they can wear and share them more often. The State of Washington does something similar for its tenured and retiring employees. Two of these employees, inspired by the FBI agents, decided to make rings from their own State of Washington pins.

Two of our clients, a married couple, worked for the Washington State Department of Health and the Attorney General's Office. With 49 years of service between them, they retired on the same day. As a token of appreciation for their service, they each recieved a lapel pin with the official Washington State seal in relief. They brought them to us to be made into custom rings.

To deepen the meaning and improve the beauty of their rings, they decided to use diamonds from their mothers' rings. The wife had a diamond ring from her deceased mother. We took the diamond from that ring and set it directly beneath the seal of her new ring. We then found six complimentary diamonds to set along the sides of the shank.

The husband also had a diamond ring from his mother that had three diamonds in it. We centered one diamond beneath his pin, then put one on each side of the ring.

"We wanted to turn the pins into rings as conversation starters while we travel during retirement," says the husband. "He did a fantastic job on the rings," he says of Rick Hartley of Hartley Jewelers.