Rose Garden/Patio Screened-In Enclosure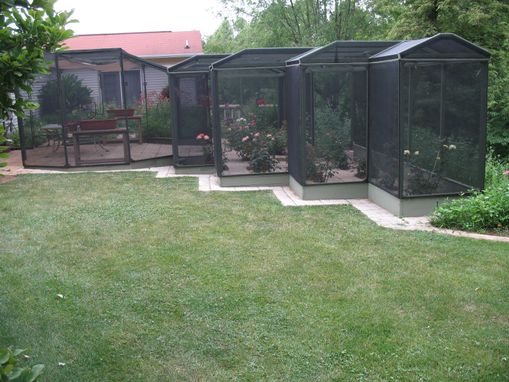 Artisan Woodworking is showcasing our ability to identify problems, evaluate situations and combine several solutions into one unique design.
Problem: to reduce intensity of sun rays on roses
Solution: select special screening suitable for this purpose and screen in total rose growing area.

Problem: minimize Japanese beetle invasion on roses
Solution: find proper screening material to solve problems 1. and 2.

Problem: develop a cost effective screen system for its large size that is essentially pleasing to its surroundings, relatively strong, yet light and comparatively easy to assemble and disassemble.
Solution: see attached three photos.

Problem: what to do with the space between rose garden and home? Is this structure viable for this location?
Solution: research last 50 years of weather of this area; create an indoor/outdoor room for patio living while simultaneously enjoying the rose garden.


Artisan Woodworking

Makers of Fine Hand-crafted Furniture

Our repertoire ranges from antique furniture reproductions to ultra-modern designs, available in free-standing or built-in pieces. Artisan Woodworking also has the expertise to recreate most antique windows, doors and moldings. For experimental purposes Artisan Woodworking can provide architects, designers and artists with rough mock-ups for ergonomic or visual applications. We specialize in small to medium-size projects. Actual sample pieces of Artisan Woodworking's workmanship are available for your inspection by appointment.

Artisan Woodworking's goals are to provide our customers with quality engineering, custom design, professionalism, and dependability at a reasonable cost for the quality provided in a friendly working environment. Please call Bob for a free consultation.