Rose Quartz Ring - Raw Gemstone Chunky Ring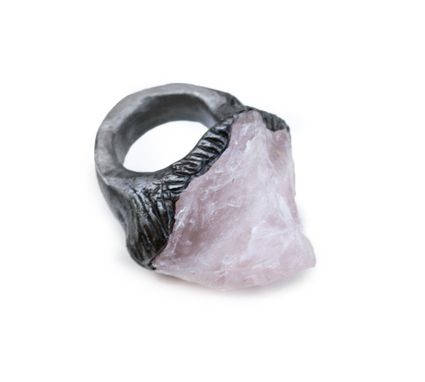 A Rose Quartz ring, on a clay base coated in a glossy silver lacquer with black accents. Fits true to ring size. Each ring is custom made with a one of a kind rose quartz stone. Your stone will measure roughly 1" wide by 1.25" tall.

The clay I use is 100% shatter resistant and one of the most durable materials you can mold with. It's epoxy-based, which means no baking or kilns are used. We're not talking fragile stuff here, this base is built to last a lifetime. Half sizes are available upon request.

Rose quartz heals the heart. It carries a gentle, soothing energy and gives comfort to anyone who has been under emotional stress. It promotes inner peace ans self-healing.

Please allow up to one week for me to create your custom ring. It will ship within five business days of placing your order.

**Note that each rose quartz stone will vary slightly in shape, as all stones are natural.