Round Bath Fizzy - Pristine Peppermint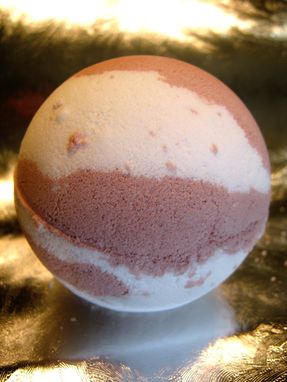 This Round Bath Fizzy (bomb) features skin loving jojoba oil and shea butter and is colored with mineral colorants. Simply fill your tub and drop in a fizzy. Plan on soaking for at least 20 minutes in order for your skin to luxuriate in the oils. No FD&C dyes.

We offer Pristine Peppermint Bath Fizzys in 6.5 oz is which is intended for a single use (based on a large size tub). We recommend that you open the Bath Fizzy over your tub as there may be some loose product in the packaging from shipping.

Our products are always paraben, phthalate, SLS and SLES free. In addition, this fizzy is vegan friendly and gluten free. MADE IN THE USA.

Ingredients: Sodium Bicarbonate (Baking Soda), Citric Acid, Magnesium Sulfate (Epsom Salt), Butyrospermum Parkii (Shea Butter) Fruit, Simmondsia Chinensis (Jojoba) Seed Oil (Jojoba Oil), Kaolin Clay, Sucrose (Sugar), Micas (Skin-Safe Mineral Colorant), Fragrance

WARNING: SOME INDIVIDUALS WITH NUT ALLERGIES MAY HAVE A REACTION TO SHEA BUTTER. NOT INTENDED FOR FACIAL USE. NOT EDIBLE. SUPERVISE CHILDREN TO ENSURE THEY DO NOT INGEST. DO NOT STORE IN A HUMID AREA. CONTACT WITH WATER OR HUMIDITY WILL CAUSE FIZZY ACTION. USE WITHIN 3 MONTHS OF PURCHASE.