Rustic Pine Table With Cedar Inlay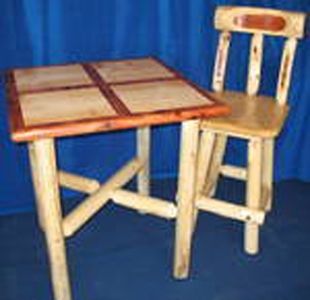 This rustic knotty pine bar table has cedar inlaid on the table top with cedar backs on the bar stool. This is a great addition to you western lodge or cabin. Each handcrafted bar table bears nature's own markings so no two are exactly the same. This piece is made from salvage logs. The rustic bar table and stools are all hand-sanded, kiln-dried and finished with a natural finishing.
Dimensions: 36" x 36" table top. The height of the table can be either 36 " or 42 ". The bar stools 42' H x 19 1/2 " wide. The height of the seats can either be 26 or 30".