Saguaro Landscape Stained Glass Panel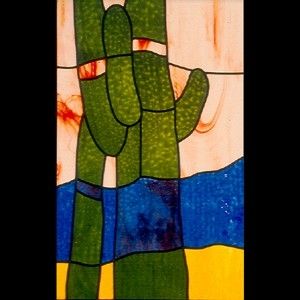 A particular shade of green hand-poured opalescent glass captivated the client and she wanted our design to include a saguaro cactus. Our somewhat abstract rendition pleased both her and her pop artist husband. All the glass is handmade in the USA and most of it has a "catspaw" configuration. It is colorful whether or not the sun is shining. The panel is leaded and it is framed in zinc, completing the contemporary look, so that it can be hung in front of a window instead of being permanently installed. Thus the panel can move from window to window and even from one home to another.
Dimensions: 22.5" x 31.5"