Saturnworks Mkii Tone Bender Replica Guitar Pedal With Tone Control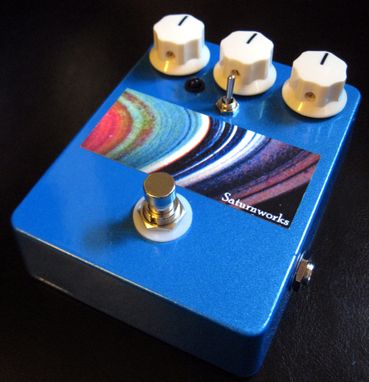 This pedal was a custom build of a classic silicon MKII Tone Bender guitar fuzz pedal, commissioned by a customer in New York state.

This custom pedal takes the traditional circuit design of the siliconTone Bender and adds a switchable tone control in order to smooth out some of the harsh high ends associated with the Tone Bender. The pedal also features high quality components and true bypass switching.

The pedal measures 4.6" x 3.6" x 1.2" and features top of the line components including a die-cast aluminum enclosure, heavy duty Neutrik brand jacks, a 'premier' footswitch for smoother switching and maximum life, and Alpha potentiometers. It is powered with a standard 9v 'Boss' style adapter. This particular pedal was finished with a sparkle blue powder coat and featured cream colored MXR knobs.