Saw-Blade Flower Wall Hanging - "Hexacinth"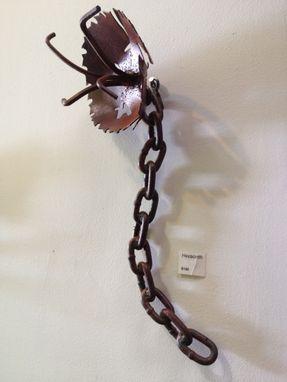 This flower started life as vintage saw blades and chain. The blades are cut into petals, MIG welded together, then forge-bent, and finally hammered into shape on an anvil. Next, they are welded onto a stem made from a chain with the links welded together. The pistil is made from repurposed allen wrenches!

The finish is a unique patina of yellow and rust on the flower, and green patina on the stem. It has a clear coat finish to slow down corrosion (although it may continue to rust). I welded an eye bolt to the back, making it ready to hang on your wall.

Note: some of the pieces are still sharp, so be careful when you handle it!

It measures approx. 6" wide and 12" tall.