Sculptural Mahogany Naiad Table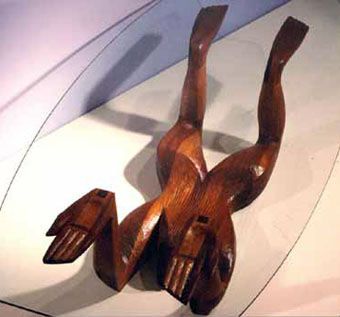 I made this piece on a whim. I wanted to incorporate sculpture into a table and so I stacked the mahogany joined it together and went at it with a set of gouges. I entered it twice in the League of New Hampshire Craftsmen juried shows. The first time it was juried out. The second time it was "the hit of the show".

Although the idea started in a satirical mode, by the time I finished the piece I realized that it could be a metaphor for the subconscious and that is why I call it a naiad, or water nymph. The elongated hands and feet were intentional, a nod to Max Beckman, who did the same thing in one of his paintings.
he divide between the subconscious and waking life."