Set Of 4 Walnut Coasters With Red Oak Inlay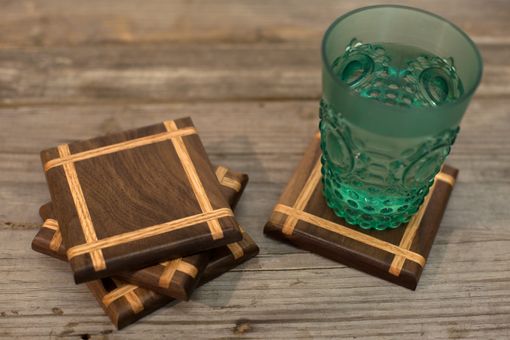 Are you looking for classy, beautiful, handmade coasters for your living room, kitchen, or man cave? You have come to the right place. These coasters are made of rich solid wood whose warm tone and inlaid pattern will bring class to any room or occasion. They also make great gifts!

These beautiful coasters are handmade of solid walnut and are inlaid with strips of red oak. The lines of inlay seem to weave under and over each other like a plaid fabric. The edges of the coasters are rounded over for a very classy look. It also creates the effect of the oak wrapping around the coasters like ribbon.

Each coaster is branded with the Grain Control logo on the bottom.

This set of 4 Coasters
Each coaster is 4" x 4" wide and 1/2" thick.
All of our products are handmade
by expert makers.