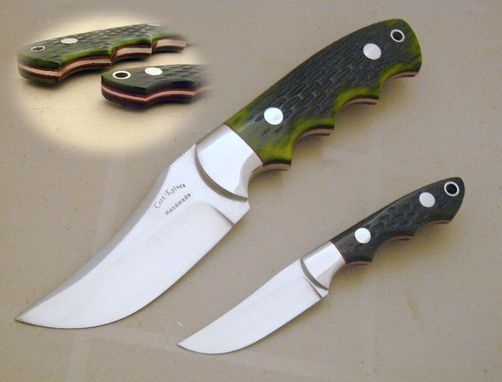 This is a set of 2 skinning knives AKA " piggy back set ", the steel is CPM-D2, the handle is hunter green jigged stag bone, both knives have tapered tangs and red fiber liners.The leather sheath is included in the price, allot of thought went into the making of the sheath, it's made to carry the knives together as a set or individually, the smaller knife has a carrage and snap to lock the knife in place, all that needs to be done is undo the snap and the smaller knife can be carried by itself, it has it's own belt loop.
Dimensions: The larger of the 2 knives first, blade length is 3" 7/8" with an overall length of 8" 1/2".
The smaller of the 2 knives has a 2" 5/8" blade with an overall length of 5" 5/8".
All of our products are handmade
by expert makers.
Richard P.'s review

• Mar 2nd 2016

I'm very happy with the final product.It was delivered on time and the workmanship was first quality.Gil kept me well informed about the projects progress and he was very easy to converse with.The four stars for the value was strictly because of the lousy exchange rate for the Canadian dollar which ups the price since Gil's knives are priced in American funds.