"Shark Bate" | Oil And Acrylic On Canvas | 119×163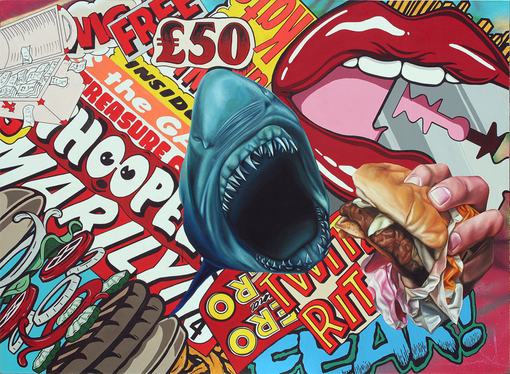 James Rawson "Shark Bate" Oil and Acrylic on Canvas
119×163

James Rawson is a postmodern pop artist, born 1989, in Norfolk England. Predominantly working in the medium of collage and painting, James found no inspiration in the beautiful Norfolk landscape he grew up in. Instead realizing the landscape of pop culture fed to him via the media had more relevance. James completed a BA Honors in Fine Art at Loughborough University in 2011. Exhibitions include 'Diversity in Style', 'British art for the future' at the Olyvia Fine Art gallery in London and is currently represented by the MAC Fine Gallery in Miami. After moving to London for a short period, he returned to his hometown in Norfolk where he now lives and works.